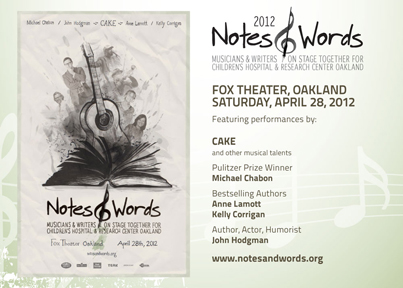 I am part of a team of people working on a wonderful event at The Fox Theater called Notes & Words for a night of smart and enjoyable entertainment benefitting Children's Hospital & Research Center in Oakland. (
www.notesandwords.org
)
Recently I went to The Fox Theater with 90 other volunteers to learn about this year's Notes & Words and what's new at Children's Hospital and Research Center Oakland.  I am so excited about both.  
The show, Sat April 28, is going to be amazing.  Cake is headlining the show with writers Michael Chabon (who won the pulitzer), Anne Lamott (who was at the party  and is so hilarious), Kelly Corrigan and the Daily Show's John Hodgman (who played the curmudgeonly PC in the Mac commercials and recently roasted Obama at the White House Correspondents Dinner). And the Fox itself is just stunning.  
We also talked a lot about Children's and the phenomenal work they have been doing – treating 300,000 kids a year (more than UCSF and Stanford Lucile Packard Hospital combined!) as well as developing vaccines, treatment protocols and cures in the Research Institute.  They have a 99% retention rate among the nurses – people love working there – and the docs are rated 9.6 (out of 10) by patient families.  And the hospital treats kids from every county in California as well as across Europe and Asia. Children's is the only level 1 pediatric trauma center in the Bay Area!
Anyway, all this is to say that I hope you can join me and support Notes & Words this year.  Seats on the floor start at $250 and go up to $2500 and, of course, there are a lot of lower cost seats upstairs too.   The costs on the event are very low so most of your ticket is a donation to the hospital and the research they are doing.  
Please let me know if you can make it and if you have any questions I can answer.  Click here to buy tickets; they are on sale now and last year's event sold out…